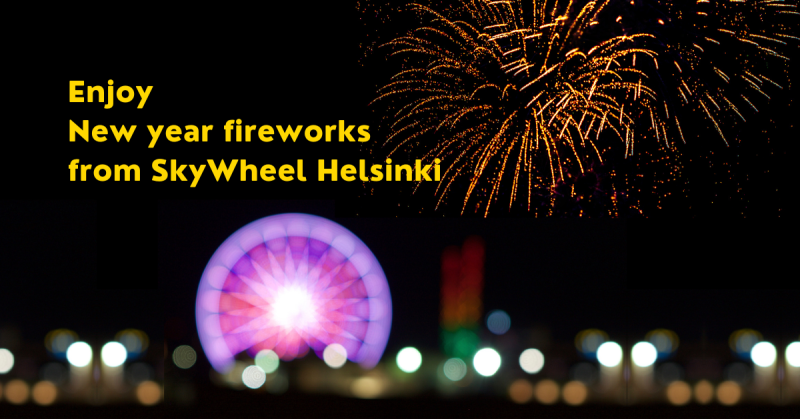 It is time to say goodbye to 2022 and get ready to welcome the New Year 2023. It is time to take along good memories and to create some more beautiful ones. And it is time to WIN A RIDE FOR 2 on the Helsinki SkyWheel for the New Year Fireworks. Please note, we will follow and we expect the winners of this contest to follow the guidelines related to COVID-19 that are defined by the local authorities.
Terms and Conditions of this contest.
This contest is sponsored by Codemenders Oy, the owner and operator of NoutoAteria. The contest allows participants a chance to win a ride for 2 on the Helsinki SkyWheel from 11:30 pm (31.12.2022) until 00:15 am.
Who is eligible?
You are at least 16 years old
You have a valid email address and telephone number
You are living or visiting Finland (Uusimaa) when campaign is active
Who is not eligible?
Any employee or owner of Codemenders Oy / NoutoAteria
Any subcontractor working for Codemenders Oy / NoutoAteria
Owners and staff of the restaurant (or business) that uses NoutoAteria
How to participate?
Option 1: Order food using NoutoAteria website or self service kiosk during 10.12-28.12 and you are automatically added to the lottery. Please note, this website uses location services to find your current location and show you a list of restaurants that are nearby.
Option 2:
Visit the Niitty shopping mall in Espoo
Find the NoutoAteria self service kiosk
Take a picture of the kiosk
Upload the picture to Instagram
Tag and follow @noutoateria account on Instagram
Please note, you should keep your Instagram account open for us to see the post and contact you in case you are the winner.
What do you win?
You win a place for yourself and a friend in a cabin at SkyWheel Helsinki during the new year fireworks, which is 31.12.2022 11:30 pm – 01.01.2023 00:15 am. This cabin accommodates 4 adults (plus two children). This means that you and your friend will share the cabin with another lottery winner and their friend. Plus, a glass of Veuve Clicquot champagne (or soft drink) awaits you and your friend.
How and when are winners announced?
Winners are announced on 29.12.2022 in the afternoon.
We will collect names of all people eligible for the lottery and draw 4 winners from the list.
These winners will be contacted via Email, Phone or Social media whichever is relevant. Upon confirmation, First names of the winners will be announced on our social media.
Winners will be informed of next steps via email or phone call, for example when and where they should meet our team on New year eve.
Any other rules?
Winner is now referred to as YOU and the winner's friend is now referred to as FRIEND.
You and your Friend's tickets to SkyWheel are sponsored by NoutoAteria. You cannot exchange this with anything else in cash or kinds.
You have to inform our team the name and age of yourself and your friend at least 3 hours earlier to the SkyWheel ride. If you would like to exchange your place in the SkyWheel cabin with someone else, e.g. another friend or family, please let us know at least 3 hours earlier.
In situations when you cannot participate in this event, you have to let us know at least 3 hours earlier. You have the right to give this place to another friend or family but you cannot sell this place to anyone.
You and your Friend are expected to visit SkyWheel between 22:45-23:15 so that the NoutoAteria team and all other winners can assemble at one place and proceed to boarding the SkyWheel together.
You and your Friend must bring your ID (passport or driving licence) so that we can verify your identity and age.
Please be sober. You and/or your Friend will be denied boarding to SkyWheel if found under the influence of alcohol or drugs.
Please be healthy. We recommend You and your Friend to visit the event only if you are healthy. If any one of you is sick, has flu symptoms or otherwise not feeling good, please skip this event and inform us about this as soon as you can.
You and your friend are expected to follow the rules laid out by SkyWheel Helsinki which can be read at skywheel.fi/en/faq. The SkyWheel staff reserve the right to decline your onboarding if you break these rules.
If you have any questions, please contact us on noutoateria@codemenders.com
Ehdot
Ketä voi osallistua:
Alaikäraja on 16 vuotta
Henkilö, jolla on voimassa oleva sähköpostiosoite ja puhelinnumero
Henkilö, joka asuu tai vierailee Suomessa, kun kampanja on aktiivinen
Kuka ei ole oikeutettu osallistumaan:
Codemenders Oy:n/NoutoAterian työntekijä tai omistaja
Codemenders Oy:ssä / NoutoAteriassa työskentelevä alihankkija
NoutoAteriaa käyttävän ravintolan (tai yrityksen) omistajat ja henkilökunta
Kuinka osallistua:
Vaihtoehto 1: Tilaa ruokaa NoutoAterian verkkosivuilta tai itsepalvelu kioskista
10.12-28.12 ja sinut lisätään automaattisesti arvontaan.
Vaihtoehto 2:
Vieraile Niitty-kauppakeskuksessa
Etsi NoutoAteria-itsepalvelukioski
Ota kuvaa
Lataa sen Instagramiin
Merkitse ja seuraa @noutoateria
Huomaa, että sinun tulee pitää tilisi auki, jotta voimme nähdä viestisi ja ottaa yhteyttä, jos olet voittaja.
Mitä voit voittaa?
Voitat paikan itsellesi ja ystävällesi SkyWheel Helsingin gondolilla uudenvuoden ilotulitteiden aikaan, joka on 31.12.2022 klo 23:30 – 01.01.2023 00:15 aamulla. Yhdessä gondolissa voi matkustaa 4 aikuista (plus kaksi lasta) – tämä tarkoittaa sitä sinä ja ystäväsi jaatte gondiliin toisen voittajan ja hänen ystävänsä kanssa. Yksi lasi Veuve Clicquot -samppanjaa (tai virvoitusjuomaa) odottaa sinua ja ystävääsi.
Miten ja milloin voittajat julkistetaan?
Voittajat julkistetaan 29.12.2022 iltapäivällä.
Keräämme kaikkien arvontaan osallistuvien henkilöiden nimet ja arvomme 4 voittajaa luettelosta.
Voittajiin otetaan yhteyttä sähköpostitse, puhelimitse tai sosiaalisen median kautta. Voittajien etunimet julkistetaan vahvistuksen jälkeen sosiaalisessa mediassamme.
Voittajille ilmoitetaan seuraavista vaiheista esimerkiksi sähköpostitse tai puhelimitse. Esim. milloin ja missä heidän pitäisi tavata tiimimme uudenvuodenaattona.
Muut asiaankuuluvat säännöt
Voittajaa kutsutaan nyt sanalla SINÄ.
Voittajan ystävästä käytetään nyt nimitystä YSTÄVÄ.
Sinun ja ystäväsi liput SkyWheeliin maksaa NoutoAteria. Lippua ei voi vaihtaa mihinkään.
Sinun tulee ilmoittaa NoutoAterialle ystäväsi nimi ja ikä vähintään 3 tuntia ennen SkyWheel-ajelua. Jos haluat vaihtaa paikkasi jonkun muun kanssa, esim. toisen ystävän tiedota siitä yrityksellemme vähintään 3 tuntia aikaisemmin.
Tilanteissa, joissa et voi osallistua tähän tapahtumaan, sinun on ilmoitettava meille vähintään 3 tuntia aikaisemmin. SINULLA on oikeus antaa tämä paikka toiselle ystävälle, mutta ET voi myydä lippua kenellekään.
SINUN ja YSTÄVÄSI odotetaan vierailevan SkyWheelissä klo 22.45-23.15 NoutoAterian tiimi ja kaikki muut voittajat voivat kokoontua yhteen paikkaan ja siirrymme yhdessä SkyWheeliin.
SINUN ja YSTÄVÄSI tulee ottaa mukaan henkilöllisyystodistus (passi tai ajokortti) jotta voimme vahvistaa henkilöllisyytesi ja ikäsi.
Osallistu raittiina. SINULTA ja/tai YSTÄVÄLTÄSI evätään pääsy SkyWheeliin, jos olette alkoholin tai huumeiden vaikutuksen alaisina
Osallistu terveenä. SINÄ ja YSTÄVÄSI voitte osallistua vain jos olette terveitä. Jos sairastut, jätä tämä tapahtuma väliin ja ilmoita siitä meille niin pian kuin voit.
Sinun ja ystäväsi odotetaan noudattavan SkyWheelin laatimia sääntöjä, jotka on luettavissa osoitteessa skywheel.fi/fi/faq. SkyWheelin henkilöstöllä oikeus evätä pääsy, jos rikot näitä sääntöjä.
Jos sinulla on kysyttävää, ota meihin yhteyttä osoitteeseen noutoateria@codemenders.com