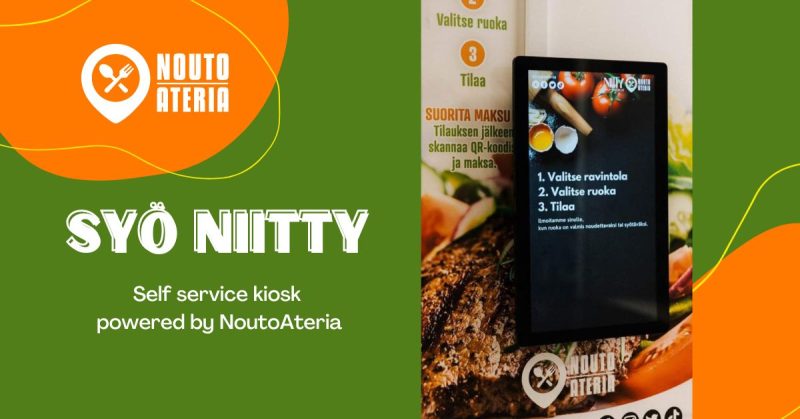 Syö Niitty will help the mall visitors to order their food when they arrive and utilize their "waiting time" to continue on their regular shopping.
Ensimmäisenä Suomessa, olemme iloisia esittelemään mielellämme NoutoAterian toimittaman SYÖ-itsepalvelukioskosarjan. Olemme asentaneet tämän sarjan ensimmäisen kioskin Espoon Kauppakeskus Nittyyn ja kutsumme sitä Syö Niittyksi. Syö Niitty on ainutlaatuinen itsepalvelukioski, jolla ihmiset voivat tilata ruokaa ravintoloista Niittykummun metroaseman vieressä sijaitsevassa kauppakeskuksessa Kauppakeskus Niittyssä.
Kauppakeskuksesa on kauppoja kuten S-market, K-market ja ravintoloita kuten Ravintola Futo, Subway, Kotipizza. Ostokeskus on keskeinen kohde lähistöllä asuville ihmisille heidän päivittäisessä ostoksessaan. Syö Niitty auttaa kauppakeskuksen kävijöitä tilamaan ruokaa saapuessaan ja hyödyntämään "odotuksensa" jatkaakseen tavallisia ostoksiaan.
Säästä aikaa ostoksillasi!
Loimme SYÖ-sarjan kioskit säästämään aika jokaisella ostomatkalla. Ei ole mitään tarvetta kävellä ostokeskuksessa tarkistaakseen ravintoloita, Kioskissa on listattu kaikki ostokeskuksen ravintolat (jotka käyttävät NoutoAteriaa), mukaan lukien ruokalista ja hinnat. Sinun tarvitsee vain tilata valitsemasi ateria ja jatkaa ostoksia. Järjestelmämme ilmoittaa sinulle, kun ruoka on valmis noudettavaksi tai syötäväksi.
Miten itsepalvelukioski toimii?
Kioski on helppokäyttöinen ja auttaa hyödyntämään "odotusajan" tehden jotain tuottavampaa kuin vain ravintolassa odottamista.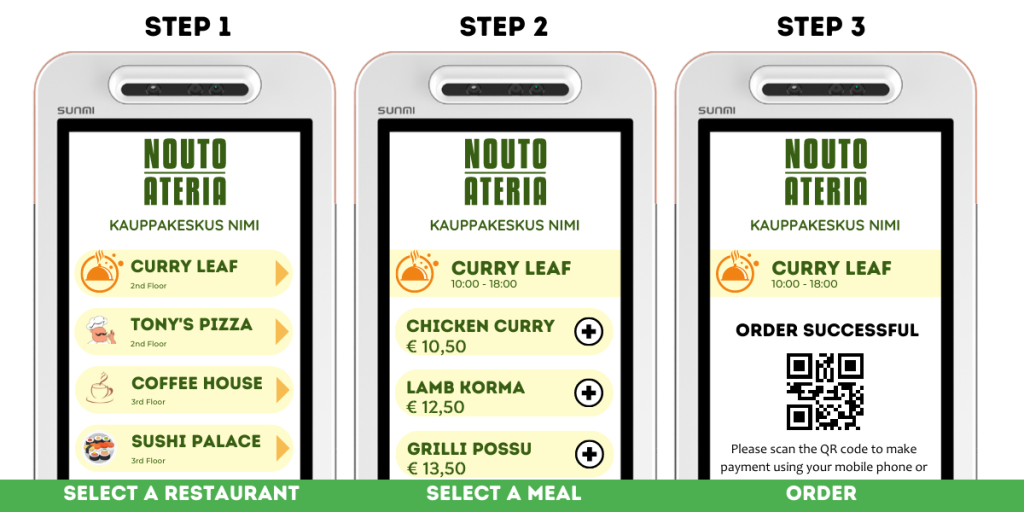 Lähetämme sinulle tilausesi puhelimeen tai tablettiin. Yleensä he vahvistavat tilauksen 5-6 minuutissa. Tämä aika voi kuitenkin vaihdella hieman sen mukaan, kuinka kiireinen keittiö silla hetkellä on. Kun tilaus on vahvistettu, saat päivityksen siitä, kuinka pian tilaus on valmis noudettavaksi tai syötäväksi.
Kioskin käyttö on turvallista
Jotkut tavintolat haluavat, että heidän tilauksensa on jo maksettu- Voit maksaa tällaiset tilaukset skannaamalla kioskissa määkyvän QR-koodin tai käyttämällä sähköpostiisi lähetettyä maksulinkkiä. Kaikki muut tilaukset voit maksaa suoraan ravintolassa. Arvostamme yksityisyyttäsi ja tietosiovat turvassa kanssamme.
Oletko kiinnostunut kokeilemaan uutta kioskiamme ja tukemaan paikallisia yrityksiä? aika jokaisella ostomatkalla. Ei ole mitään tarieraile Kauppakeskus Niittyssä ja kokeile itse. Kioskimme sijaitsevat myös valikoiduissa Reguksen yrityskeskuksissa Uudellamaalla. Jos haluat lisätietoja näistä kioskeista, ota yhteyttä tiimiimme:
Asennuskyselyt : vistoria [at}codemenders.com tai victoria [at]noutoateria.fi
Lisätietoja : info [at] codemenders.com
In English
As a First in Finland, we are glad to introduce the SYÖ series of self service kiosks, powered by NoutoAteria. We have installed the first kiosk in this series at Kauppakeskus Niitty in Espoo and call it Syö Niitty. Syö Niitty is a unique self service kiosk that people can use for ordering their food from restaurants in Kauppakeskus Niitty, a shopping mall located next to the Niittykumpu metro station.
The mall hosts shops like S-market, K-market and restaurants like Ravintola Futo, Subway, Kotipizza. The mall is a key destination for people living nearby for their day-to-day shopping. Syö Niitty will help the mall visitors to order their food when they arrive and utilize their "waiting time" to continue on their regular shopping.
Save time on your shopping trip!
We created the SYÖ series kiosks to help people save time on every shopping trip. There is absolutely no need to walk around the mall to checkout the restaurants. The kiosk lists all of the restaurants in the shopping mall (that use NoutoAteria), including their menu and prices. All you need to do is to order the meal of your choice and continue shopping. Our system will notify you when the food is ready for pick-up or dine-in.
How does the self service kiosk work?
The kiosk is easy to use and helps you utilize your "waiting time" doing something more productive than just waiting at the restaurant.
We will send you order details via Email or SMS. The restaurant you choose will receive your order on their phone or tablet. Usually, they confirm the order within 5-6 minutes. However, this time may vary a little based on how busy the kitchen is at that time. Once the order is confirmed, you will get an update about how soon the order is ready for pick-up or dine-in.
Using the kiosk is secure
Some restaurants prefer that their order is paid already. You can pay for such orders by scanning the QR code that appears on the kiosk or use the payment link sent to your Email address. For all other orders, you can pay directly at the restaurant. We value your privacy and your data is secure with us.
Interested to try our new kiosk and support local businesses? Visit Kauppakeskus Niitty and try it out for yourself. Our kiosks are also located at selected Regus business centers in Uusimaa. To know more about these kiosks, get in touch with our team:
Installation inquiries: victoria [at] codemenders.com or victoria [at] noutoateria.fi
More information: info [at] codemenders.com