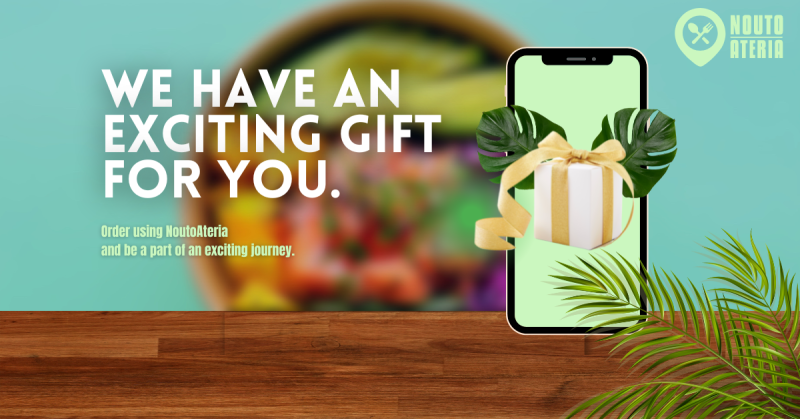 Takaisin antaminen on yksi perusarvoistamme. Uskomme vakaasti hymyn tuomiseen käyttäjillemme. Siksi olemme suunnitelleet erityisen kampanjan, joka keskitty antamaan takaisin yhteisölle, joka on auttanut meitä kasvamaan.
Vince Lombardi, yksi jalkapallohistorian suurimmista valmentajista, sanoi kerran, että "voitto ei ole kaikki, se on ainoa asia".Tiimimme ei voinut olla enempää samaa mieltä tästä. Meille vuosi 2023 on ollut jännittävä alku. Uutena brändinän markkinoilla tiedämme, että edessä on monia jännittäviä asioita. Ja juhlimaan tulee monia muitakin voittoja. Emme halua olla yksin tuossa juhlassa.
Olemme luoneet erityisen kampanjan, joka auttaa sinua tukemaan paikallisia ravintoloita ja antaa sinulle mahdollisuuden juhlia elämän pieniä asioita. 1.2.2023 alkaen jokainen NoutoAterian kautta ruokaa tilaava on mahdollisuus voittaa S-ryhmän lahjakuponki arvoltaan 50€ joka kuukausi. Tälläisia lahjakuponkeja on voitettava kaksitoista, joiden yhteisarvo on 600€. Voit käyttää näitä kuponkeja viihteeseen, ostoksille, matkustamiseen ja polttoaineen maksamiseen valituilla huoltoasemilla.
Kolme helppoa vaihetta osallistuaksesi tähän kilpailuun
Mene verkkosivuillemme ja tee tilaus valitsemastasi ravintolasta
Vieraile ravintolassa TakeAway- Dine-in-ravintolassa
Nauti ruuastasi
Julkaisemme yhden onnekkaan voittajan joka kuun 1. päivänä. Valitsemme voittajan edelisen kuukauden aikana NoutoAteriaa käyttäneiden listalta. Tämä tarkoittaa, että mitä aktiivisempi olet, sitä enemmän muutoksia sinulla on voittaaksesi! Julkaisemme ensimmäsen voittajan 1.maaliskuuta ja sen jälkeen jokaisena kuukauden 2013 ensimmäisenä päivänä.
Joulukuu 2023 on erityinen
Tämä johtuu siitä, että kuussa on kaksi voittajaa, jotka julkistetaan ennen jouluaattoa (tarkemmat tiedot tulevat myöhemmin) Lisäkis on salaisuus- kaikille voittajille on luvassa jotain hyvin erityistä. Joten pysy kuulolla!
On aika voittaa! Ei kerran. Ei kahdesti. Vaan useamman kerran!
Content in English.
Giving back is one of our core values. We firmly believe in bringing smiles to our users. That is why, we've designed a special campaign focused on giving back to the community that has helped us grow.
Vince Lombardi, one of the greatest coach in Football history once said that "winning isn't everything, it's the only thing". Our team couldn't agree more on this. For us, it's been an exciting start to 2023. As a new brand in the market, we know that there are many exciting things to come. And there will be many more wins to celebrate. We don't want to be alone in that celebration.
We've created a special campaign that helps you support local restaurants and gives you a chance to celebrate little things in life. Starting from 1st February 2023, every one who orders food using NoutoAteria will get a chance to win S-group gift coupon worth 50 € every month. There are twelve such gift coupons to be won with a total value of 600 €. You can use these coupons for entertainment, shopping, travelling and to pay for gas at selected gas stations.
Three simple steps to join this contest
Go to our website and make an order from restaurant of your choice
Visit the restaurant for TakeAway or Dine-in
Enjoy your food
We will announce one lucky winner on the 1st of every month. We will select the winner from the list of people who have used NoutoAteria during the previous month. This means, that everyone who orders will be automatically added to the contest. Our partner restaurants are located in Olari, Matinkylä, Leppaväärä, Lauttasaari and Punavuori.
You have a chance to win multiple times!
Yes. You read it right. You can win a gift card every month until the end of 2023. This means that the more active you are, the more changes you have to win! We will announce the first winner on 1st of March and subsequently on the first day of every month of 2023.
December 2023 is special
That's because there will be two winners for this month who will be announced before Christmas eve (exact details will follow). Plus, there is a secret – there is going to be something very special for all the winners. So, stay tuned!
Its time to win! Not once. Not twice. Many times!