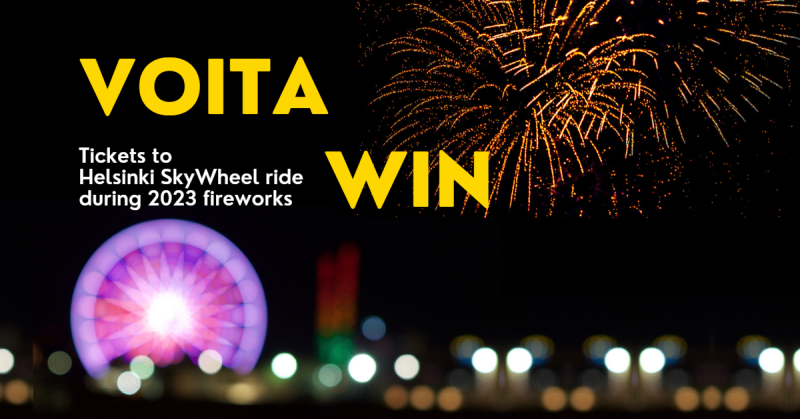 Voita paikat upealle uudenvuoden keskiyön ajelulle SkyWheel Helsinki maailmanpyörä kierros! Win seats for a wonderful New Year's midnight ride on the SkyWheel Helsinki ferris wheel!
It is time to say goodbye to 2022 and get ready to welcome the New Year 2023. It is time to take along good memories and to create some more beautiful ones. And it is time to WIN A RIDE FOR 2 on the Helsinki SkyWheel for the New Year Fireworks. Please note, we will follow and we expect the winners of this contest to follow the guidelines related to COVID-19 that are defined by the local authorities.
The year 2022 has been very special for us. It added more confidence and experience to our team. This helped us grow from three to twenty plus restaurants in Espoo that are using NoutoAteria. It also helped us to start two new projects which are clearly the "First in Finland". More about them in upcoming posts.
We are thankful for the support we've received from all of you. The restaurant owners, the restaurant staff and everyone else who has used NoutoAteria. Since you've made this year memorable for us, we would like to create more beautiful memories for you.
Let's welcome 2023 together and in style. Order your food using NoutoAteria during 10.12-28.12.2022 and we will add you to the lottery. Read the terms of the contest to know more about other options how you can participate in this lottery.
There will be 4 winners for this contest and each one of them will get front row seats at Helsinki SkyWheel during the New year fireworks. The best part is that you also get to invite one friend.
So, start charging your cameras and get ready for the New year's eve. Our team will see you at Helsinki SkyWheel on 31.12.2022.